THE STORY
HOW RICE PAPER WAS FIRST IMPORTED TO JAPAN
~Lifeline Food that Vietnam is proud of~
After Doi Moi policy in Vietnam which has begun in 1986, Noriyasu Kyo, the founder of Youki Trading Co., Ltd, visited the land of Ho Chi Minh for the first time. He was moved by how it was delicious when he had a specialty dish Gỏi cuốn (Summer Roll), which rice papers are used for.
When he went to Củ Chi tunnels, directorate operations during the Vietnam War, a local guide has told him "Thanks to rice papers, we could endure battles against the united states". He then continued "When you light a fire in hiding from American military, they will find its smoke as a target and bomb the point naturally. On the other hand, rice papers can be soaked in water quickly and leaves nearby or random dishes should be wrapped into the papers easily. Also, Vietnamese military could bring the rice papers with them and take shelter in the tunnels over a long period as the rice papers excel in nutrition as well as preservative quality".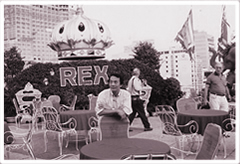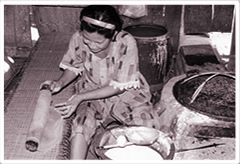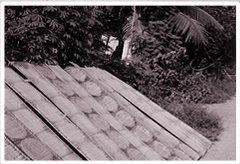 The founder became convinced that the product was worth spreading across Japan because of the good quality and has begun importing it after making a contract with a state enterprise in Vietnam. Meanwhile, it takes a lot of time to produce rice papers as the product is handmade one by one and dried under sunshine. In addition, he had hard times to mass-produce the rice papers because mature technique was required for it, and to secure routes to gather the product. Furthermore, he has experienced challenges and difficulties in import procedures because there was not HS code (Harmonized Commodity Description and Coding System) to decide the tariff rate for the rice papers at that time in Japan.
Having overcome all kinds of situations followed by the actual import process, he lucked out in unprecedented ethnic craze in 1990's. Ever since then, the rice papers made in Vietnam have been enthusiastically recognized by gourmet fans who pursue authentic flavors and qualities, and have become a well-known standard dish nowadays.
HOW FISH SAUCE WAS FIRST IMPORTED TO JAPAN
~Taste of home that saved lives of Refugees~
In latter half of 1970, about 3000 Indochinese refugees have evacuated to residences in Yoyogi, Tokyo in the midst of aftermath of Vietnam War termination. However, many of them were wasting away to skin and bone because food in the facilities was unpalatable to them.
Noriyasu Kyo, who is a founder and has been experienced in an embassy and sales enterprises for years, has been chosen to make a difference to their hardship. A solution that he has picked up was rice noodles, which Japanese people were not familiar with at that time, as he was acquainted with ingredient in Southeast Asia. It was quite a right choice to the refugees because it was their taste of home and they were delighted with it. Still, they have often mentioned "it tastes like something is missing compared to the taste of home", therefore the founder has determined after many experiments with kinds of soy sauces and finding fascination about Umami of Nam Pla which is generally used for Southeastern dishes. "This is it! I will import this product!"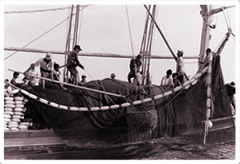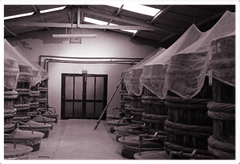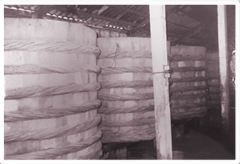 Back in those days, due to the fact that Vietnam or Cambodia could not trade at all under their own circumstances, Mr. Kyo finally made it into importing Nam Pla, the fish sauce from Thailand, having had a lot of processes and concluded that the one which shared Southeast Asian areas should have tasted the same. Although, the Nam Pla cargo was put on hold during customs clearing at Yokohama seaport for a reason that there was no HS code (Harmonized Commodity Description and Coding System) for the item. What is worse, because of unique smell of Nam Pla, Ministry of Health and Welfare regarded it as damaged and suspended it. Mr. Kyo nevertheless was eager to persuade the Ministry and obtained an import license for the first time in Japan.
The refugees squealed for joy with Nam Pla delivered to them after a lot of difficulties. They right away sliced chili peppers in rounds, put them onto rice with Nam Pla and had 5 or 6 refill bowls, saying "We have been waiting for this". The founder was impressed with the scene and convinced "I'm sure I want to introduce this incredible taste to Japanese people". This is how he has officially launched importing and selling Nam Pla in Japan.